lost the omph to blog. lost the will to live. NOT.
and I'm balding I think, hair loss speed = hair growth speed. Thus, I still have lots of hair but top of my head thinning d, gahhh stress!
am really tired of all these :(. it's holiday now. everyday same routine. sigh. been doing lots of thinking. came to no end. sigh what wrong with me?
Nevermind, anyway had a great day today :). I went for a massage this morning and then gym after that. I won't forget what my instructor said during that 1 hour session.
REMEMBER WHAT YOU ARE HERE FOR! BREAKFAST GONE! SUPPER GONE! PEDAL HARDER AND YOUR LAST NIGHT DINNER ALSO GONE!
wahlao, really lor -.-, everyone pedalled til breathing like dogs like that, but it was worth it! I rushed home after gym to bath and get ready for P to come pick me up.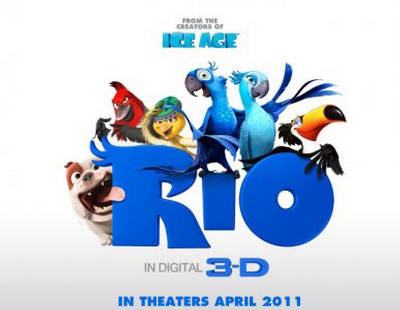 We were going to watch Rio 3D in KLCC.
Rating : 4.5/5
(The movie was really that good :), go and watch it!)
Oh did I mention I FREAKING SAW Asha Gill in KLCC?! Within distance only, she's even prettier in person! Apparently V knows her, so V walked up to her and chatted with her for a while. I was with V, that was how close we were standing! Asha Gill looked elegant :). After that, we were also planning to try and go for the concert in front Philharmonic. It's a two days concert, actually nothing much, there were Wondergirls and Hoobastanks yesterday though, today just Mizz Nina and Colby O'Donis. So ya, after our movie, we were all starved to the core! Decided to follow E's idea and have dinner in Nando's :). First time eating in Nando's! Excited much. Our food arrived fast EXCEPT for P's. He waited for like about an hour for his Chicken Espetada. We complained to the manager, but he couldn't do much as well because the waiter keyed in later -_-' Really don't know how they train themselves to deal with crowded situation, so freaking messed up! Think am not going back to the Nando's in KLCC anymore.
We had our dinner and paid then we tried to go for the concert. Epic PHAIL anyway. Cannot enter from anywhere. I think they closed up the entrance. So we stood outside and watch the screen for a while. Then P came up with ideas of where to go, either Bintang Walk, Changkat or Look Out Point. We agreed on Look Out Point, so off we went to Look Out Point. The journey wasn't that long surprisingly, just a bit congested. Walked for a bit and settled down in Cloud Nine Restaurant.
P and R shared a grape & mint flavoured shisha. The rest of us just sat there and chit chat. I really had a great time sitting there just not thinking at all, and crapping with my friends. Really needed time off for things like that. That's how I remind myself that how simple things are still able to create happiness. Just chillin around, not doing anything, not thinking anything. If it was the me few years back, I wouldn't make spontaneous decision like that to just go to places like that at night. Hell no, I think I would have been a good girl, abide by the family curfew rules and stayed home. I'm glad I chose to go out tonight :).
OH BTW BTW, P SAYS HI :)
XD
OH OH OH!
Here are some really cacat pictures I took with my lousy phone D:
P staring at Twin Tower
* I think he didn't know I took this picture*
& then we arrived at Look Out Point.
P and E running up XD
tada~ KL Nightview!
So what's there to do in Look Out Point after you have finished enjoying the night view?
Time to settle down somewhere!
P played PvZ on my iPad while shisha-ing -.-
E and V's artwork lol.
V got to the point of drawing E out on the envelope.
LOL, FYI yes, we were all THAT bored.
After Look Out Point, they sent me back :) Enjoyed the ride home, who needs to go to some crowded concert when you have your very own DJ E and DJ P in the car lol? We could have whatever songs we want to hear, I swear P has the longest playlist ever. It's like he has every songs! Once and again, I'm really glad I chose to go for the movie today and also to follow them for Look Out Point after that.
From this moment onwards, it's back to reality :),
back to all the stress, quitting is not an option :).